Cairox Hijs Hokij has contracted 25-year-old Doug Rose. The American defender comes over from Knoxville Ice Bears who plays in the American Southern Professional Hockey League (SPHL). 
At the age of 18, Rose signed in the North American Hockey League (NAHL) with the Fairbanks Ice Dogs, where he will play for 3 seasons. Then Rose played in the NCAA Division III, the same league where former BeNe League toppers Kyle Brothers and Cheyne Matheson come from. After 4 years in NCAA III, Rose started his professional career with the Knoxville Ice Bears in the SPHL. Last season, he scored 9 times and gave 25 assist, making Rose the best defender of his team with the most points (34). Thanks to his good performance, the American has joined the SPHL Second All-Star Team from 2018-2019.
I know the club has a successful past, being part of a winning culture is ideal for every player. I hate to lose." – Doug Rose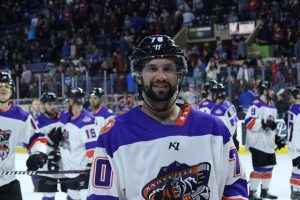 The defender cannot wait to stand on the ice in De Uithof: "I am honored to be a player of Cairox Hijs Hokij. Coach Chris Eimers was immediately helpful when we first met. Among other things, I had the opportunity to talk to players and they praised Eimers, the club and the city of The Hague. This made it easy to choose Cairox Hijs Hokij" said Rose, setting a goal for himself for the coming season: "A personal goal of mine is to help the team win championships. I know the club has a successful past, so being part of a winning culture is ideal for any player. I hate to lose." Rose also specifically describes his qualities on the ice are: "Some characteristics that the supporters will see with me that they skate well, fit, play at a fast pace and have the right mentality."
Priority
Head coach Chris Eimers is happy that Doug Rose joins the team: "After the loss of Jurryt Smid, we went looking for a replacement. It was our priority to provide the defense with attacking impulses. So we went to watch an attacking defender, Rose meets this image. He is a complete player who understands when to attack and to stay in the back."
Three imports
Rose plays at Cairox Hijs Hokij with number 70, the number with which he has played since childhood. The American is the second import that the club attracts. Earlier, Canadian goalkeeper Brett Magnus made the switch to The Hague. The number of allowed imports for the coming season has been increased by the BeNe League organization to 3 imports. So there is still room to contract a third import player.